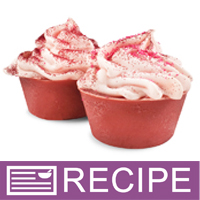 (Enlarge Image)
NOTE: This project and these instructions have been written for someone who has experience making soap and knows the potential dangers due to working with sodium hydroxide. It wil not outline safety methods of working with dangerous chemicals, it is simply a soap recipe for advanced soapmakers.
In a polypropylene measuring cup add sodium hydroxide flakes. To a separate polypropylene pitcher, add the water.
Gradually mix the Lye into the water until the Lye Flakes are dissolved. Set aside in a safe place and allow to cool.
To a microwave-safe measuring cup, add Coconut Oil, Palm Oil, Olive Oil, Castor Oil and Mango Butter. This will be the bowl you will stick blend in, so make sure it will be large enough.
Warm oils in microwave or over low heat until melted. Set aside to cool.
In two separate containers measure three 0.15 ml micro scoops of Red pigment powder in one container and Neon Pink powder in another and set aside.
When both your oils and your lye water are about 125°F or below, you are ready to mix.
With all of your safety equipment on (safety glasses, gloves, sleeves) and stick blender ready, pour your lye water into the oils. We recommend pouring down the shaft of the stick blender to try to avoid air bubbles.
Stick blend until the soap reaches a light trace then add the fragrance oil. Stir oil in by hand.
Pour a small amount of soap batter into each container with the pre-measured color. You will need just enough batter to mix in the powdered colors.
Blend the container with red powder in it. Mix by hand, and then briefly stick blend. Once the color is blended, pour in about half of the remaining uncolored soap batter and blend. Pour into Petite Muffin Silicone Mold.
Blend the container with Neon pink powder in it. Mix by hand and then briefly stick blend. Once the color is blended, pour back into the remaining half of the uncolored soap batter and blend.
Allow to come to a thick trace. This will be used for your frosting so it needs to be able to hold its shape. Once it has reached this consistency, load into your frosting gun or pastry bag and pipe onto the cupcakes.
Top with glitter and allow to set up.
After at least 24-48 hours, unmold the cupcakes. Allow to cure for 4-6 weeks before using.
Package and label product accordingly.
To Use: Lather onto skin and rinse off. Keep out of eyes.
Ingredient Label:
Water,Coconut Oil, Olive Fruit Oil, Castor Seed Oil, Mango Seed Butter, Palm Oil, Sodium Hydroxide, Fragrance, Iron Oxides, Polyester-3, Red 28, Manganese Violet, Glitter.