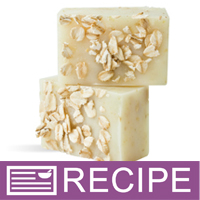 (Enlarge Image)
NOTE: If you are making these products for sale, good manufacturing practices recommend you wear a hairnet, gloves and a mask. We also recommend a clean apron and workspace.
Using a small food processor, grind up 1 cup of oatmeal until it looks like a coarse powder. Set aside.
To microwave-safe measuring cup, add 60 oz. of cut up soap. Heat in microwave until soap has completely melted.
To plastic beaker, add 1 oz. of Oatmeal, Milk & Honey fragrance oil with 0.50 oz. vanilla stabilizer. Stir and let sit for 2 minutes.
Place silicone mold on large cookie sheet.
Pour ground oatmeal from Step 2 into melted soap. Stir to mix. Let soap thicken, about 5-10 minutes. This will help keep the oatmeal suspended throughout the soap.
Once soap has thickened enough, stir once more and pour soap into mold. Spritz top of soap with alcohol to dissolve any surface bubbles.
Before the soap gets a skin on top, sprinkle some oats (not ground) over the top of the soap. Put as much or as little as you like.
Allow soap to set up overnight.
Before unmolding, lay down a layer of parchment or wax paper on your work area. This will catch any toppings that may fall off when unmolding.
Gently pull sides of mold away from soap. Carefully turn mold over and gently push on bottom to release soap. Turn soap right- side up.
Cut the bars of soap along the score lines. Cut each bar in half lengthwise and then widthwise, creating four small rectangles from each larger rectangle bar.
Sprinkle a little of the Rose Petals into the bottom of each cello bag.
Package 2 mini rectangles together in a cello bag with the rose petals. To help avoid smudges on the bag, you can use two pieces of cardboard or some other flat material to guide the soap into the bag and then pull out the cardboard.
Make two folds at the top of the cello bag then punch two holes with a hole puncher. Tie 1-2 pieces of raffia through the holes and tie into a bow.
Add tag or label on bag with couples name and wedding date.
To Use: Lather onto wet skin and rinse with warm water.
Ingredient Label:
Sorbitol, Oat Scrub, Propylene Glycol, Sodium Laureth Sulfate, Stearic Acid, Water, Sodium Hydroxide, Myristic Acid, Lauric Acid, Goat Milk, Yellow 5, Titanium Dioxide, Fragrance.