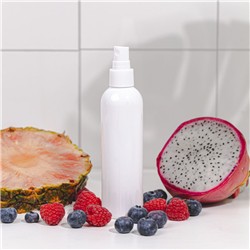 (Enlarge Image)
NOTE: If you are making these products for sale, good manufacturing practices recommend you wear a hairnet, gloves and a mask. We also recommend a clean apron and workspace.
To measuring cup, add aloe vera, avocado and argan oils. Heat for 30 seconds in microwave.
To second cup, add distilled water. Bring to a boil in microwave. CAUTION: CUP WILL BE HOT!
Slowly add water to oils and stir.
Add salts to water mixture and whisk until completely dissolved.
Add polysorbate, fragrance and preservative. Blend well.
Pour 4 oz. into each bottle, being sure to stir well before each pour.
Let cool completely. Trim dip tubes to fit length and place onto bottles
Label product accordingly.
To Use:
SHAKE WELL BEFORE EACH USE AS PRODUCT WILL SEPARATE.
Spray onto wet or dry hair and leave in. Use sparingly as too much will stiffen and dry out hair.
Ingredient Label:
Water, Magnesium Sulfate, Sea Salt, Polysorbate 20, Mineral Oil, Coconut Oil, Aloe Vera, Avocado Oil, Argan Oil, Phenoxyethanol, Caprylyl Glycol, Sorbic Acid, Fragrance.