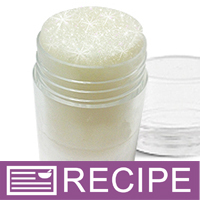 (Enlarge Image)
NOTE: If you are making these products for sale, good manufacturing practices recommend you wear a hairnet, gloves and a mask. We also recommend a clean apron and workspace.
Into heat-safe pan, add Smooth & Creamy Lotion Bar Additive. Heat on low until wax has melted.
Add Shea Butter and let melt stirring gently to help butter melt quicker. Remove from heat source once melted..
Add glitter and stir into mixture. Let set for few minutes and then stir, again, as glitter will settle.
Fill tubes with product. Let completely cool before applying caps.
Label product accordingly.
NOTE: This is made fragrance-free so as not to interfere with other perfume being worn. If adding fragrance for this recipe, we recommend adding 1-2% or 1 ml - 2.5 ml.
To Use: Apply to skin wherever desired.
Ingredient Label:
Shea Butter, Polyglycerol-3 Beeswax, Polyethylene Terephthalate Copolymer.