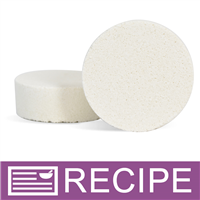 (Enlarge Image)
NOTE: If you are making these products for sale, good manufacturing practices recommend you wear a hairnet, gloves and a mask. We also recommend a clean apron and workspace.
To mixing bowl, add 10.65 oz. Baking Soda, 5.30 oz. Citric Acid and 1.30 oz. White Kaolin Clay.
Sift powders to remove any clumps and mix well.
Drizzle 0.55 oz. Rainforest* EO & FO onto powders and mix with gloved hands.
While hand mixing, spray the powders with rubbing alcohol until mixture stays together when squeezed.
Press powders firmly into mold cavities and allow to harden 12-24 hours. Remove from mold and set aside on cookie sheet.
Repeat two more times to make 24 additional tabs.
Package three tabs in each cello bag and tie with ribbon.
Label accordingly.
To Use:
Place tab in running shower or warm water-filled bathtub and breathe in the relaxing aroma.
*Compare our fragrance to Aveda. Wholesale Supplies Plus is not affiliated or associated with Aveda.
Ingredient Label:
Baking Soda, Citric Acid, Kaolin, Fragrance