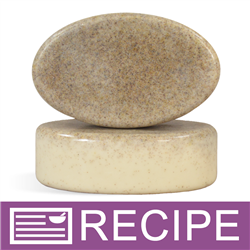 (Enlarge Image)
NOTE: If you are making these products for sale, good manufacturing practices recommend you wear a hairnet, gloves and a mask. We also recommend a clean apron, workspace and sanitized equipment.
Weigh and cut up 23 oz. of Tussah Silk MP soap. Place soap into large microwaveable measuring cup. Heat in microwave until soap has completely melted.
Stir in 0.25 oz. (1 Tbsp.) Walnut Shell Powder and 0.05 oz. of each essential oil. We added the essentials at a total of 1% of all four oils. You can choose to double the amount (0.10 oz. each) if a stronger scent is desired.
Let soap cool to help suspend walnut shell powder. Once soap forms a skin on top, stir skin into soap and then pour soap into mold, filling all four cavities to the top. You want to see the soap come up under the top rim to get a nice round bar.
Spritz top of soap with isopropyl (rubbing) alcohol and let soap completely harden.
Remove bars from mold and wrap soap as desired in airtight packaging.
Repeat above steps to make remaining four soap bars.
Label product accordingly.
To Use: Lather onto wet skin, scrub hands well, rinse with warm water.
Ingredient Label:
Sorbitol, Propylene Glycol, Sodium Laureth Sulfate, Stearic Acid, Myristic Acid, Water, Sodium Hydroxide, Sodium Cocoyl Isethionate, Titanium Dioxide, Tussah Silk, Walnut Shell Powder, Lemongrass Essential, Eucalyptus Essential, Sweet Orange Essential, Lavender Essential Oils.