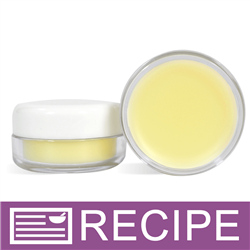 (Enlarge Image)
NOTE: If you are making these products for sale, good manufacturing practices recommend you wear a hairnet and latex gloves. We also recommend a clean apron and workspace.
To plastic beaker, add beeswax and jojoba oil. Heat in microwave until melted.
When mixture has cooled to 160°F, add essential oil and blend.
Fill each jar to 0.35 oz. by weight. If the mixture begins to harden, heat briefly to liquify.
Allow to harden completely and add lids.
Label accordingly.
NOTE: When selecting essential oils to include in your solid perfume, be mindful of the
safety precautions
for each oil, especially those that are likely to cause irritation or phototoxicity.
To Use:
Dab a small amount of perfume onto your neck, behind your ears or on your wrists. If you included any phototoxic essential oils, avoiding applying the perfume to areas that will be exposed to sunlight.
Ingredient Label:
Jojoba Oil, Beeswax, Lavender Essential Oil.