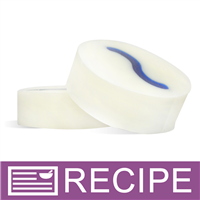 (Enlarge Image)
NOTE: If you are making these products for sale, good manufacturing practices recommend you wear a hairnet, gloves and a mask. We also recommend a clean apron and workspace.
To microwave-safe measuring cup, add 4 oz. of cut up clear soap. Heat in microwave until melted.
Cut the Matte Cobalt Blue and Matte Black Soap Color Cubes into 4 pieces each.
Place 3 of the Cobalt Blue and 1 of the black color pieces into the melted soap. Stir until the color has completely melted in. Reheat briefly if color has not completely melted.
Assemble the Squiggle 2" Column Silicone Soap Mold making sure all sides are firmly linked together. Place mold on a cookie sheet to give mold stability and also in case any soap might leak out.
When the soap temperature cools down to 130°F, carefully and slowly pour the soap into the squiggle mold. Allow the soap to set up and harden for at least one hour.
Assemble the Round 2 3/4" Column Silicone Soap Mold making sure all sides are firmly linked together. Again, place mold on a cookie sheet.
To microwave-safe measuring cup, add 36 oz. of cut up goats milk soap. Heat in the microwave until all the soap has melted.
Add 1 oz. of Dancing Waters Fragrance Oil and mix well.
ALLOW SOAP TO COOL TO 120°F BEFORE POURING. This is very important so the embed (squiggle) does not bleed into the white soap.
Remove navy squiggle from mold and spritz entire embed well with alcohol.
Carefully and slowly pour a small amount of soap into the mold - about 1/4 up the mold. Place squiggle into the middle. Soap may need to be help in place until white soap starts to harden.
Once soap has hardened enough so the embed does not move, spritz white soap well with alcohol. Pour more soap slowly into the mold filling to the top. Spritz top with alcohol.
Use remaining soap in measuring cup to top off the soap if it has settled while cooling.
To be sure the mold holds its round shape, you may need to place something on either side to hold the mold in place.
Let soap harden for at least 2 - 3 hours, preferably overnight.
Unmold soap and trim any excess from the sides.
Place in mitre box, if available, and cut into 8 slices.
Wrap in plastic wrap or other airtight packaging.
Label product accordingly.
To Use: Lather onto wet skin and rinse with warm water.
Ingredient Label:
Sorbitol, Propylene Glycol, Sodium Laureth Sulfate, Stearic Acid, Water, Sodium Hydroxide, Myristic Acid, Lauric Acid, Sodium Cocoyl Isethionate, Goat Milk, Fragrance, Yellow 5, Titanium Dioxide., Ultramarines, Iron Oxides.