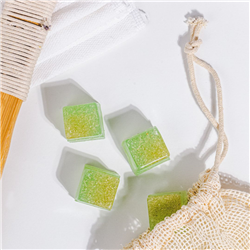 (Enlarge Image)
NOTE: If you are making these products for sale, good manufacturing practices recommend you wear a hairnet, gloves and a mask. We also recommend a clean apron and workspace.
Weigh 16 oz. of extra clear soap and cut up into small chunks. Place in glass measuring cup.
Place in microwave and heat for about 30 seconds. Remove and stir. If solid soap remains, heat soap in 15-20 second intervals until all soap has melted.
Add 9 ml. fragrance oil and stir well.
Add 3 drops or more of Stained Glass Forest Green Liquid Color until desired shade is achieved.
Add 2 Tablespoons of Luffa Powder and stir well.
Pour soap evenly between 5 clamshells filling just to the top of each cavity. Spritz top with alcohol to pop any surface bubbles.
Set aside and allow soap to solidify.
Repeat steps 1-6 using remaining supplies.
To Use: Lather one soap cube onto wet skin. Rinse with warm water.
Ingredient Label:
Sorbitol, Propylene Glycol, Sodium Laureth Sulfate, Luffa Powder, Stearic Acid, Myristic Acid, Water, Sodium Hydroxide, Sodium Cocoyl Isethionate, Fragrance, Green 5, Yellow 5.