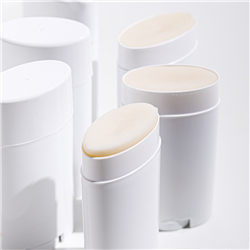 (Enlarge Image)
NOTE: If you are making these products for sale, good manufacturing practices recommend you wear a hairnet, gloves and a mask. We also recommend a clean apron and workspace.
Into metal pot., add coconut oil, cocoa butter and beeswax. Place on stove over low heat to slowly melt products.
To mixing bowl, add arrowroot powder and baking soda and place in glass bowl.
To a plastic beaker, add fragrance and Vitamin E and set aside.
Once oil, butter and beeswax have melted, remove from heat. Slowly mix in arrowroot powder and baking soda with a wire whisk or spatula. Mix until product is smooth.
Add fragrance and vitamin E mixture and stir until well blended.
Once mixture has cooled to between 135°-140°F, pour into tubes. Place empty tube on scale and tare to zero. Fill each tube to 3 oz. by weight. If you have any product left over, you can divide evenly among the tubes, just be sure to note the weight to add to your label.
Let product cool completely before placing caps on.
Label product accordingly.
To Use: Apply to underarms daily.
Ingredient Label:
Baking Soda, Coconut Oil, Cocoa Butter, Arrowroot Powder, Beeswax, Fragrance, Vitamin E.