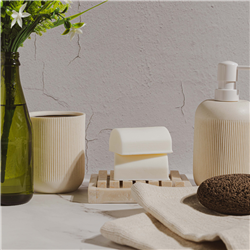 (Enlarge Image)
NOTE: If you are making these products for sale, good manufacturing practices recommend you wear a hairnet, gloves and a mask. We also recommend a clean apron, work area and sanitized equipment.
To a metal pan or double boiler, add all ingredients except fragrance and preservative. Heat over low heat until melted. Stir or whisk occasionally until fully blended. Mixture will have a milky appearance and will not be clear. Scrape sides of pan and blend into mixture. Remove from heat.
Add fragrance and preservative then pour into mold. Fill cavities to the top. Let completely harden. Mold can be placed in fridge to speed up process.
Once hard, unmold and set on paper towel. Let set out overnight to harden further.
Package as desired.
Label product accordingly.
To Use: Wet conditioner bar and rub onto hands. Massage into hair, putting a little extra on ends, if desired. Rinse out. For thicker or long hair, you may want to leave in for a few minutes then rinse out. If hair seems greasy, use less of the conditioner.
Ingredient Label:
BTMS-50, Shea Butter, Cocoa Butter, Coconut Oil, Cetyl Alcohol, Argan Oil, Avocado Oil, Panthenol, Phenoxyethanol, Caprylyl Glycol, Fragrance.