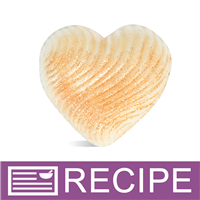 (Enlarge Image)
NOTE: If you are making these products for sale, good manufacturing practices recommend you wear a hairnet, gloves and a mask. We also recommend a clean apron and workspace.
To a microwave-safe measuring cup, add 21 oz. of cut up soap base. Heat in microwave until completely melted
Add 0.66 oz. fragrance oil and mix into melted soap.
Pour into the cavities of the two plastic molds. Spritz top of soaps with rubbing alcohol to release any air bubbles. Let set for about 30 minutes then place in refrigerator to completely harden.
When soap has completely hardened, remove from fridge. Carefully turn molds over and press on each cavity to remove the soap. Set soaps aside on a table or cookie sheet.
Repeat above steps to make the remaining 6 soaps.
While the soaps are setting up, remove the sprayer cap from the 35 ml powder spray bottle. Place about 2 teaspoons of Sparkle Gold Rose Mica Powder into the bottle and place spray top on bottle.
Spray the first set of 6 soaps with the mica powder being sure to cover the top of the soaps well.
Repeat with the second set of soaps when they are unmolded.
Package soaps as desired and label accordingly.
To Use: Lather onto wet skin and rinse off with warm water.
Ingredient Label:
Sorbitol, Coconut Oil, Propylene Glycol, Stearic Acid, Water, Sodium Hydroxide, Argan Oil, Kokum Butter, Silk Amino Acids, Bamboo Extract, Sunflower Extract, Aloe Leaf Extract, Carrageenan Extract, Marshmallow Root Extract, Fragrance, Fluorphlogopite, Iron Oxide.