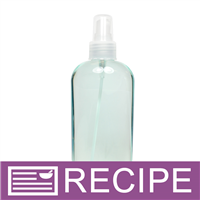 (Enlarge Image)
NOTE: If you are making these products for sale, good manufacturing practices recommend you wear a hairnet, gloves and a mask. We also recommend a clean apron and workspace.
Iinto large glass measuring cup add 32 oz. Body Splash.
In a smaller bowl, mix FO/EO Modifier with Sweet Honeysuckle Fragrance Oil.
Add fragrance mixture to Body Splash and mix well but gently as too much mixing can cause bubbles.
Add 1 drop of Ocean Blue Liquid dye and blend in.
To fill, place first bottle on scale and tare to zero. Fill bottle to 8.5 ounces by weight.
Repeat with remaining 3 bottles.
Trim dip tubes to fit the length of the bottles and place sprayers on top.
Label product accordingly.
To Use: Spritz into air or onto a flower arrangement. Spraying on or near furniture or bed sheets may cause staining.
Ingredient Label:
Water, Nonoxynol 12, Polysorbate 80, Glycerin, Propylene Glycol, Methylchloroisothiazolinone & Methylisothiazolinone, Fragrance, Blue 1.