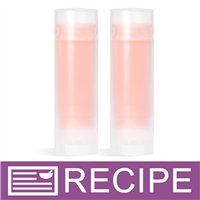 (Enlarge Image)
NOTE: If you are making these products for sale, good manufacturing practices recommend you wear a hairnet, gloves and a mask. We also recommend a clean apron and workspace.
Into microwave-safe measuring cup, add Lip Balm for Sticks.
Place into the microwave and heat product until completely melted.
Add 2.5 ml of Fragrance Oil and a 0.15 ml scoop of Sexy Pink Slippers Mica Powder. Gently stir to incorporate.
Carefully pour product into 11 lip tubes. Let completely harden.
If any sink holes appear, use either a heat gun or hairdryer on low heat to melt the top to smooth it out.
When product has hardened, place cap on fragrance tube.
Label product accordingly.
To Use: Apply to wrist or neck area.
Ingredient Label:
Castor Oil, Olive Oil, Beeswax, Carnauba Wax, Soybean Oil, Candelilla Wax, Fragrance, Mica, Titanium Dioxide, Iron Oxide, Silica.