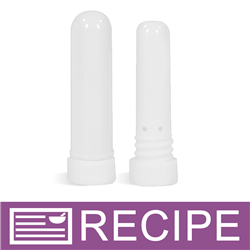 (Enlarge Image)
NOTE: If you are making these products for sale, good manufacturing practices recommend you wear a hairnet, gloves and a mask. We also recommend a clean apron and workspace.
Using clean plastic droppers, drop each essential oil along the wick. Allow to sit for a few minutes to absorb all the oil.
Using tweezers, place the oil-soaked wick inside the inner tube and snap cap into place. Place outer tube over inner tube and screw into place.
Your inhaler is ready for use, it should last about 3 months.
DO NOT PUT DIRECTLY ON THE SKIN.
*For children between the ages of 5-10 use the reduced drops below:
2 drops Cedarwood EO
3 drops Sweet Orange EO
1 drop Ylang Ylang EO
Ingredient Label:
Cedarwood, Sweet Orange, Ylang Ylang Essential Oils