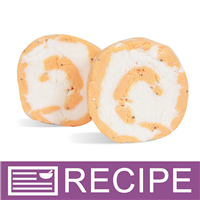 (Enlarge Image)
NOTE: If you are making these products for sale, good manufacturing practices recommend you wear a hairnet, gloves and a mask. We also recommend a clean apron.
Lathanol LAL Powder is a very airborne product. You will need a mask and a contained space when making your finished product.
To a large mixing bowl, add dry ingredients. Gently mix with a wire whisk to incorporate all ingredients.
Add fragrance oil to the dry mix and carefully mix together.
Add liquid ingredients slowly while kneading ingredients together with gloved hands. The mixture will begin to take on the consistency of dough. When adding the glycerin, start with 3 Tablespoons and continue to add 1 Tablespoon (if necessary) until mixture takes on a doughy consistency.
When the mixture begins to hold together in your hand, split the batch in half and place 10 oz. each into 2 bowls.
In the first bowl, add the Bath Bomb Orange Powder colorant. Mix thoroughly until the color is fully incorporated and no white spots are left. Then add the poppy seeds to the same bowl. Mix thoroughly.
On a sheet of wax paper, roll out (or flatten) the orange "dough" into a large flat rectangle. It should be about 1/2" thick.
On another sheet of wax paper, roll out the white dough the same way.
Lay the white "dough" on top of the orange and using the wax paper take one side and pull up and over. Pulling the dough real tight, keep rolling the mixture using the wax paper. Make sure not to roll the wax paper into the mixture and be sure to start rolling with the longest side in front of you.
When the "dough" is completely rolled together, the ends will be open so push them together so that the "dough" looks like a log. Let sit for two hours.
Using a soap cutter or dull knife, cut your log into slices. You can weigh the entire log, then divide up into the number of slices you would like.
Place slices on a cookie sheet. These will need to dry at least 24-48 hours until hard.
Wrap them in airtight plastic wrap or some other airtight container.
Label product accordingly.
TO USE: Crumble one bubble cake under warm running water and watch as the tub fills up with luxurious bubbles.
10/2019 - Previous fragrance, Cayenne Caramel Bubble Cakes, was discontinued.
Ingredient Label:
Baking Soda, Sodium Lauryl Sulfoacetate, Potassium Bitartrate, Cocamidopropyl Betaine, Glycerin, Sodium Laureth Sulfate (and) Glycol Distearate (and) Cocamide MEA (and) Laureth-10, Fragrance, Yellow 6 Lake, Poppy Seeds.