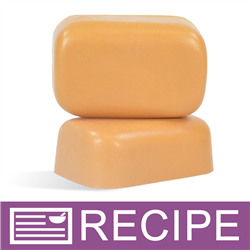 (Enlarge Image)
NOTE: If you are making these products for sale, good manufacturing practices recommend you wear a hairnet, gloves and a mask. We also recommend a clean apron, workspace and sanitized equipment.
To a microwave-safe measuring cup, add 14 oz. cut up soap. Heat in microwave until completely melted.
Mix .40 oz. fragrance with .20 oz. Vanilla Color Stabilizer. Let set for two minutes.
Add fragrance mixture and one sample bag of Caramel Brown Butterscotch Mica powder. Blend well with a wire whisk until the color is completely mixed in.
Place plastic mold on a cookie sheet. This will give the mold stability so it can be moved.
Carefully pour the soap into all three cavities starting with the single one on the bottom. This will help to keep the mold from tipping when filling the other two cavities.
Spritz top of soap with rubbing alcohol and let soap set up for about 5-10 minutes. Then place mold in refrigerator or freezer to completely harden, about 30-60 minutes. This will also make it much easier to unmold the soap.
Remove mold from refrigerator and turn over onto counter. Gently press on each soap cavity until it releases from the mold.
Repeat above steps to make remaining three bars of soap.
Once all soaps have been made, wrap in airtight packaging.
Label product accordingly.
To Use: Lather onto wet skin and rinse off with warm water.
Ingredient Label:
Sorbitol, Coconut Oil, Propylene Glycol, Stearic Acid, Water, Sodium Hydroxide, Glycerin, Shea Butter, Mango Butter, Cocoa Butter, Fragrance, Titanium Dioxide, Mica, Iron Oxide