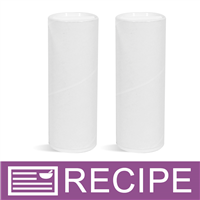 (Enlarge Image)
NOTE: If you are making these products for sale, good manufacturing practices recommend you wear a hairnet, gloves and a mask. We also recommend a clean apron and workspace.
Add Cornstarch, Arrowroot Powder and Bentonite Clay to large mixing bowl.
Grind Calendula, Chamomile and Lavender Botanicals using a fine powder grinder, such as a coffee grinder, into a fine powder.
Add the botanical powder to the other powders and blend well with a wire whisk.
Fill each powder shaker to 3.20 oz. by weight and snap on bottom of container.
Label product accordingly.
TO USE: Sprinkle powder onto baby's bottom before applying clean diaper.
Ingredient Label:
Arrowroot Powder, Cornstarch, Bentonite Clay, Calendula Flower, Chamomile Flower, Lavender Flower.