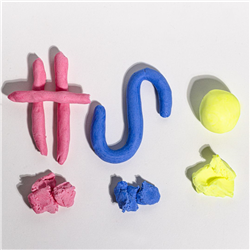 (Enlarge Image)
NOTE: If you are making these products for sale, good manufacturing practices recommend you wear a hairnet, gloves and a mask. We also recommend a clean apron and workspace.
For this step, we recommend wearing a mask as this powder gets airborne very quickly. To a large mixing bowl, add cornstarch and lathanol powder. Mix with wire whisk and set aside.
To a measuring cup add remaining ingredients except color. Stir to blend.
Slowly add the liquids to the dry mixture blending with spatula or spoon. Once mixture is wet from the oils, blend with gloved hands, mix until the dough is smooth and all ingredients are well blended. If dough is sticky, add a small amount of cornstarch to mixture.
Divide dough into three separate bowls of approximately 15.2 oz. each.
Add one color to each bowl and mix into dough. If dough is dry, drizzle a little glycerin onto dough to soften it (about 1 teaspoon per bowl). Dough should have the consistency of normal play dough.
Package 3 oz. of dough into soap cups and add lid. Each color should yield 5 cups.
Package as desired and label product accordingly.
To Use: Squish bubble dough and mold into shapes. When finished, place back into cup and leave lid off until dough has dried. Or, crumble under running water to create a bubble bath.
Ingredient Label:
Cornstarch, Sodium Lauryl Sulfoacetate, Sweet Almond Oil, Cocamidopropyl Betaine, Glycerin, Fragrance, Phenoxyethanol, Caprylyl Glycol, Red 28, Red 22, Blue 1, Polyester-3, Yellow 5.