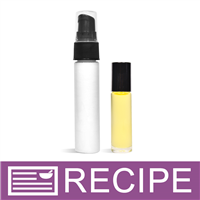 (Enlarge Image)
NOTE: If you are making these products for sale, good manufacturing practices recommend you wear a hairnet, gloves and a mask. We also recommend a clean apron and work space.
FOR UNDER EYE SERUM:
Place a small bowl on the scale and tare to zero. Add ingredients directly to bowl: 1 oz. Aloe Vera Oil, 1 oz. Evening Primrose Oil, 1 oz. Grape Seed Oil, 0.25 oz. Carrot Seed Extract and 0.25 oz. Vitamin E T-50.
Remove from scale and whisk ingredients together.
Add .5 ml of Geranium Essential Oil and whisk again to combine.
Using a clean dropper, fill the 11 glass bottles to 0.25 oz. by weight.
Place roller ball and cone insert into each bottle and apply lids.
FOR LOTION:
Place small measuring cup on scale and tare to zero. Add 10 oz. of Luxury Hand and Body Cream to measuring cup. Using a wire whisk, briefly whip up the lotion
Add 1 oz. of the Carrot Seed Extract and whisk to combine.
Add the remaining 1 oz. of Carrot Seed Extract and whisk to combine.
Add 1.25 ml of Geranium EO and preservative and blend well.
Fill the 11 bottles with 1 oz. of lotion by weight. For ease in filling bottles, pour lotion into pastry or zip close bag. Cut off tip and fill bottles with lotion.
Trim the Treatment Pumps to fit the bottles and apply to bottle.
Label products accordingly.
To Use: After washing your face, roll the eye serum under your eyes and follow with the lotion. You can do this either before bed or before your make-up routine in the morning.
Ingredient Label:
EYE SERUM: Aloe Vera Oil, Evening Primrose Oil, Grape Seed Oil, Water, Glycerin, Carrot Seed Extract, Vitamin E, Essential Oil. LOTION: Water, Carrot Seed Extract, Stearic Acid, Propylene Glycol, Isopropyl Palmitate, Cetyl Alcohol, Glycerol Sterate, Lanolin, Polymethoxy Bicyclic Oxazolidine, Mineral Oil & Lanolin Alcohol, Allantoin, Tocopheryl Acetate, Aloe Vera Gel, Daucus Carrot Seed Extract, Sodium Benzonate, Potassium Sorbate, Citric Acid, MethylParaben, Urea, Potassium Hydroxide, Chloroxylenol, Propylparaben, Sodium Hydroxide, Essential Oil.