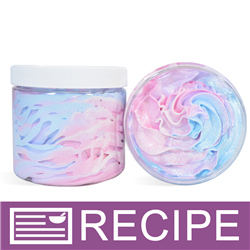 (Enlarge Image)
NOTE: If you are making these products for sale, good manufacturing practices recommend you wear a hairnet, gloves and a mask. We also recommend a clean apron and workspace.
Empty Foaming Bath Whip into a large bowl. Using a hand mixer, whip for 10 minutes.
Add Aloe Vera Oil and Vitamin E and gently fold into the bath whip.
Add Fragrance Oil, MCT and Preservative. Mix well.
Divide mixture into four bowls with 8 oz. of product in each.
To the first bowl, add white purple mica powder. Fold color into bath whip and then use the hand mixer to completely blend in the color.
To the next three bowls, add each of the mica powders. Mix as above.
Place frosting tip on a pastry bag, or inside the corner of a zip seal bag.
Tear off a piece of plastic wrap about two and a half feet long and lay out on your work table.
Tear off two more pieces of the same size and attach them to the top of the first piece of plastic wrap. This will give you a rectangle roughly 2.5 feet wide by 2 feet tall.
Take the white purple whipped soap and spread it on the plastic wrap about 6 inches from the top and four inches from each side.
Take the plumberry pink colored whipped soap and spread it next to the white purple whipped soap.
Repeat this with the other two colors.
You should end up with a whipped soap rectangle that is 6 inches from the top and the bottom of the plastic wrap and 4 inches from each of the sides.
Pull up the top and the bottom of the plastic wrap and fold over each other to seal the whipped soap inside.
You will have what looks like a whipped soap tube. Twist the ends to seal the whipped soap inside.
Put this tube inside the piping bag and pull the end of the twisted plastic wrap through the piping tip. Snip the end of the plastic wrap that is coming out of the piping tip.
Fill each jar to 4.75 oz. by weight.
Fill the powder spray bottle with Iridescent Sparkle Glitter and place on spray top. Spray the top of the whipped soap in each jar with glitter and place lids on jars.
Label product accordingly.
To Use: Apply bath whip to washcloth or nylon puff and apply to wet skin.
Ingredient Label:
Glycerin, Water, Sodium Cocoyl Isethionate, Sorbitol, Propylene Glycol, Disodium Lauryl Sulfosuccinate, Stearic Acid, Sodium Chloride, Diazolidinyl Urea, Iodopropynyl Butylcarbamate, Fragrance, Soybean Oil, Aloe Vera Extract, Medium Chain Triglycerides, Vitamin E, Mica, Titanium Dioxide, Iron Oxide, Manganese Violet, Ultramarine Blue, Tin Oxide, Fluorphlogopite, Polyethylene Terephthalate, Acrylates Copolymer.