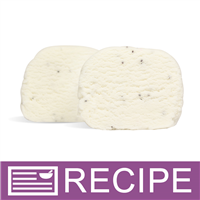 (Enlarge Image)
NOTE: If you are making these products for sale, good manufacturing practices recommend you wear a hairnet, gloves and a mask. We also recommend a clean apron and workspace. Lathanol LAL Powder is a very airborne product. You will need a mask and a contained space when making your finished product.
This recipe is designed to make two smaller bubble logs approximately 8.5 inches in length. If you desire, the entire batch can be made at one time.
To large mixing bowl, add 9.75 oz. Baking Soda, 3.40 oz. Corn Starch and 2.10 oz. Bubble Bar Hardener.
NOTE: Be sure to wear a mask for this step. Add 5.70 oz. Lathanol Powder. Carefully and gently mix powder ingredients together using a wire whisk.
In a plastic beaker, mix 9.5 ml Vanilla Bean Fragrance Oil and 4.75 ml Vanilla Color Stabilizer for CP Soap. Let sit for two minutes.
To dry ingredients, add 0.30 oz. Castor Oil and 3.0 oz. Glycerin along with fragrance mixture.
With gloved hands, begin to mix dry and wet ingredients together.
Add one 0.15 ml scoop of poppy seeds to mixture. Continue to blend with hands until mixture has a dough-like consistency.
If dough seems dry, add a small amount of glycerin at a time until it resembles cookie dough.
Place dough on wax paper and flatten out with hands. Cover with second piece of wax paper and begin to roll out with rolling pin.
Continue to roll until log is about 8.5" long. Close ends so dough resembles a log then completely wrap with wax paper.
Repeat above steps to create the second bubble bar log.
Let logs harden for 2 hours then slice into about 3/4" slices. Let slices dry overnight or up to 48 hours.
To package, place 2 slices in a cello bag and tie with raffia.
Label product accordingly.
TO USE: Crumble 1/2 - 1 bubble slice under warm running water. Create even more bubbles by briskly running your hand back and forth under the running water.
Ingredient Label:
Baking Soda, Sodium Lauryl Sulfoacetate, Corn Starch, Potassium Bitartrate, Glycerin, Castor Oil, Fragrance, Poppy Seed.