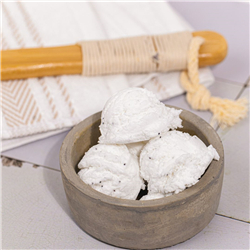 (Enlarge Image)
NOTE: If you are making these products for sale, good manufacturing practices recommend you wear a hairnet, gloves and a mask. We also recommend a clean apron. Lathanol LAL Powder is a very airborne product. You will need a mask and a contained space when making your finished product.
To large mixing bowl, add Baking Soda, Lathanol Powder and Bubble Bar Hardener. Gently mix with a wire whisk to incorporate all ingredients.
In plastic beaker, mix 9.5 ml Fresh Vanilla Fragrance Oil and 9.5 ml Vanilla Color Stabilizer. Mix well and allow to sit for two minutes.
In second plastic beaker add 1 oz. Bubble Wash Pearlizer and 1.5 oz. Bubble Up and add to mixture slowly while kneading ingredients together with gloved hands. The mixture will begin to take on the consistency of dough.
Drizzle 2.5 oz. of Glycerin over the mixture along with ¼ tsp. Poppy Seeds and knead into the dough.
Using an ice cream scoop with a squeeze handle, scoop out the dough packing it loosely. Flatten out the bottom and place scoop onto a cookie sheet covered with wax or parchment paper.
If the dough is not packed too tightly, the mixture will yield approximately 21 bubble scoops.
Let the scoops air-dry for about 48 hours, and then package as desired. We recommend placing 3 scoops in a cello bag and tying with ribbon, placing in a small ice cream-style cup or packaging in a plastic jar.
Label product accordingly.
TO USE: Place scoop under warm running water and watch the mounds of bubbles that will appear.
Ingredient Label:
Baking Soda, Sodium Lauryl Sulfoacetate, Potassium Bitartrate, Glycerin, Cocamidopropyl Betaine, Sodium Laureth Sulfate (and) Glycol Distearate (and) Cocamide MEA (and) Laureth-10, Fragrance, Poppy Seeds.