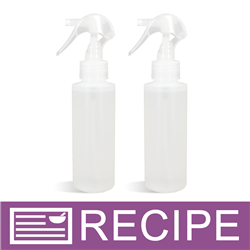 (Enlarge Image)
NOTE: If you are making these products for sale, good manufacturing practices recommend you wear a hairnet, gloves and a mask. We also recommend a clean apron and workspace.
To large mixing bowl, add water, lavender and vanilla hydrosols and stir to blend.
Add fragrance oil, polysorbate 20 and preservative. Blend well.
Let mixture set for about 10 minutes to solubilize completely.
Mix well and carefully fill bottles using a funnel.
Trim dip tubes to fit bottles and apply.
Label product accordingly.
To Use: Spray lightly above linens or into air. Do not spray too closely onto fabrics.
Ingredient Label:
Water, Vanilla Hydrosol, Lavender Hydrosol, Fragrance, Poly 20, Preservative.