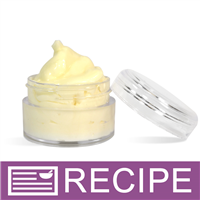 (Enlarge Image)
NOTE: If you are making these products for sale, good manufacturing practices recommend you wear a hairnet, gloves and a mask. We also recommend a clean apron and workspace.
To metal pot, add Shea Butter, Palm Butter, Mid Chain Triglycerides Liquid and Castor Oil. Over low heat, melt until completely liquid.
Add 1 ml Vitamin E and 3 ml Vanilla Mint Sweetened Flavor Oil and stir.
Add ½ tsp. sugar and (1) 0.15 ml micro size scoop of Highlight White Gold Mica Powder and blend.
Place pan in refrigerator to thicken.
When thick but not solid, remove from refrigerator. Using hand mixer, whip product until fluffy.
Fill each jar to 0.60 oz. If extra product remains, divide between the 10 jars and apply caps.
Label product accordingly.
To Use: Apply to dry lips as needed.
*NOTE: Product will harden after whipping but will melt immediately upon contact with the skin. You only need a small amount to moisturize the lips.
**NOTE: In warmer weather, it is not recommended to leave this in a purse or hot car as the butters can melt.
Ingredient Label:
Shea Butter, Palm Butter, Castor Oil, Mid Chain Triglycerides Liquid, Sugar, Flavor Oil, Vitamin E, Fluorphlogopite, Titanium Dioxide, Tin Oxide.