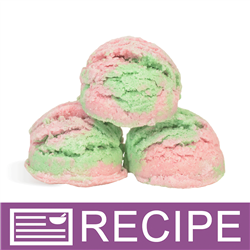 (Enlarge Image)
NOTE: If you are making these products for sale, good manufacturing practices recommend you wear a hairnet, gloves and a mask. We also recommend a clean apron, workspace and sanitized equipment.
We recommend using a mask when working with lathanol powder. It is a very fine powder and becomes airborne very quickly.
To large mixing bowl, add baking soda, lathanol, bubble cake hardener and cornstarch.
Use a sifter or gloved hands to break up any clumps in the mixture.
Drizzle glycerin over mixture and mix with gloved hands.
To plastic beaker, add MCT and water. Drizzle over mixture and immediately mix with gloved hands.
Divide mixture between two bowls, about 10 oz. each.
To one plastic beaker, add 5 ml fragrance oil and 2.5 ml of stabilizer. Mix and set aside.
To other beaker, add 5 ml fragrance oil and 2.5 of stabilizer. Mix.
Add pink mica to one beaker and blue and yellow mica to other beaker. Mix well.
Add pink color to one bowl and green color to other bowl. Mix each well with gloved hands.
Using the ice cream style scoop, fill with half pink and half green mixture. Pack tightly into the scoop about ¼" from the top. This will ensure you get 24 scoops from the mixture. Place scoops onto a jelly roll pan.
Continue until all mixture is scooped. Let harden for about 24 hours. They do not need to be covered.
Package in jars and apply lids.
Label product accordingly.
To Use:
Crumble 1 bubble scoop under running water to create lots of bubbles.
Ingredient Label:
Baking Soda, Sodium Lauryl Sulfoacetate, Glycerin, Potassium Bitartrate, Cornstarch, Medium Chain Triglycerides, Water, Fragrance, Mica, Titanium Dioxide, Iron Oxide, Fluorphlogopite, Tin Dioxide, Ultramarine Blue.