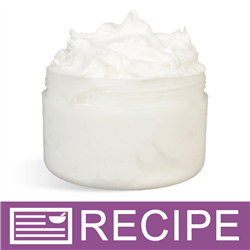 (Enlarge Image)
NOTE: If you are making these products for sale, good manufacturing practices recommend you wear a hairnet, gloves and a mask. We also recommend a clean apron and workspace.
Empty 16 oz. container of Chamomile Butter Blend into a large glass bowl.
With hand mixer, whip butter until fluffy.
Add Evening Primrose oil and Tapioca Starch. Whip ingredients until blended in.
Add fragrance. Blend ingredients and continue mixing until fluffy, about 5 minutes on high.
Fill jars to 3 oz. by weight. Apply lids.
Label product accordingly.
To Use: Apply to skin as needed.
*Due to unavailability of jars, packaging was changed as of 3/24/2020.
Ingredient Label:
Chamomile Butter, Evening Primrose, Tapioca Starch, Lavandin Essential.