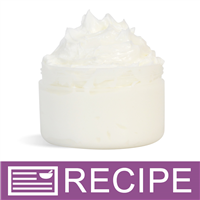 (Enlarge Image)
NOTE: If you are making these products for sale, good manufacturing practices recommend you wear a hairnet, gloves and a mask. We also recommend a clean apron and workspace.
Into large microwave-safe measuring cup, add Coconut Butter Blend. Heat in microwave for 60 seconds to soften.
Using hand mixer, whip for 1-2 minutes until smooth and creamy.
Add Meadowfoam Seed Oil and Jojoba Oil and mix.
Add Tapioca Starch, Fragrance Oil and Vitamin E and continue to whip for 3-5 minutes.
Fill each jar* to 3 oz. by weight and place lids on jars.
Label product accordingly.
To Use:
Apply to skin as often as needed.
*Due to unavailability of jars, packaging was changed as of 3/24/2020.
Ingredient Label:
Coconut Butter, Meadowfoam Seed Oil, Jojoba Oil, Fragrance, Tapioca Starch, Vitamin E.