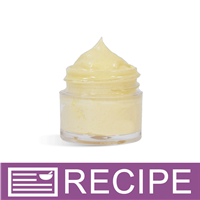 (Enlarge Image)
NOTE: If you are making these products for sale, good manufacturing practices recommend you wear a hairnet, gloves and a mask. We also recommend a clean apron and workspace.
To mixing bowl, add Coffee Butter and Coconut Butter.
To a small bowl, add shea butter and heat in microwave just until softened. Add shea butter to larger mixing bowl.
Using a hand mixer on low, start to whip the butters until they start to thicken. Be sure to scrape bowl often while mixing.
Add Avocado Oil, Flavor Oil and Vitamin E. Whip until all ingredients are well incorporated.
Add 1/4 tsp. Cocoa Powder for light color, or add until desired color is reached.
Continue whipping until all ingredients are incorporated.
Fill jars to approximately 0.25 oz. using either a narrow spoon or a piping bag. Place lids on jars.
Label product accordingly.
To Use: Apply to dry lips as needed.
Ingredient Label:
Coffee Butter, Shea Butter, Coconut Butter, Avocado Oil, Flavor, Vitamin E, Cocoa Powder.