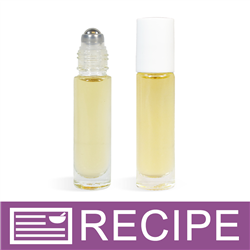 (Enlarge Image)
NOTE: If you are making these products for sale, good manufacturing practices recommend you wear a hairnet, gloves and a mask. We also recommend a clean apron and workspace.
To the mix & pour cup, add the caffeine extract, white tea extract, shea 50 and honeyquat. Note: This recipe can easily be divided in half to make only 12 eye serum bottles.
Thoroughly blend ingredients with a spatula.
Fill each bottle to 0.30 oz. by weight. Snap plastic cone with roller ball into place. Screw on cap.
Label product accordingly.
To Use: Roll a thin layer under each eye morning or night. If applying in the morning, let dry completely before applying makeup. If product separates, shake well before using.
11/2019 - Honeyquat was substituted for Jojoba Milk which was discontinued.
Ingredient Label:
Caffeine Extract, Water, Glycerin, White Tea Extract, Honeyquat, PEG-50 Shea Butter.