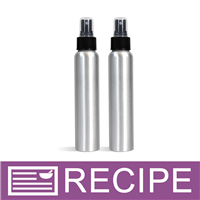 (Enlarge Image)
NOTE: If you are making these products for sale, good manufacturing practices recommend you wear a hairnet, gloves and a mask. We also recommend a clean apron and workspace.
To large glass measuring cup, add distilled water and vinegar. Set aside.
To one plastic beaker, mix Polysorbate and each Essential Oil.
To water/vinegar mixture add the preservative and blend together. Then add the Essential Oil mixture and blend well.
Fill the larger bottles to 4 ounces by weight, then fill the smaller bottle with remaining product. This can be used as a tester or sample bottle.
Trim dip tubes to the appropriate length and apply sprayers to bottles.
Package and label accordingly.
TO USE: Shake before use, spray generously onto yoga mat and wipe dry with a clean cloth.
Ingredient Label:
Water, Vinegar, Polysorbate 20, Pink Grapefruit Essential, Lavender Essential, Phenoxyethanol, Caprylyl Glycol, Sorbic Acid.