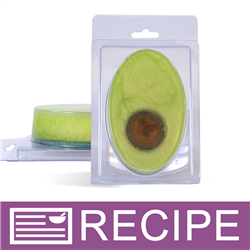 (Enlarge Image)
NOTE: If you are making these product for sale, good manufacturing practices recommend you wear a hairnet, gloves and a mask. We also recommend a clean apron and workspace.
To a microwave-safe container, add 4 oz. of cut up clear soap. Add 3 micro scoops of gingerbread brown mica powder and stir well.
Fill 6 cavities of the round soap mold about 3/4 full, let harden. Remove from mold and set aside.
Melt 28 ounces of cut up clear soap in the microwave, heat until melted.
Pour 0.50 oz. into the clamshell and spritz with alcohol. Spritz the round soap, place it inthe clear soap by the hinge. Do one clamshell at a time, so the round ball soap sets up in the clear soap and not on top of it. Repeat for the next 7 clamshells.
Allow soap layer to completely harden.
In a small bowl pour in a small amout of alcohol and 4 scoops of the yellow mica and 2 scoops of the green mica, and stir well.
Add color mixture to the melted clear soap ( soap may need to be remelted for 10 seconds or so). Stir well.
Add .5 oz of fragrance oil and mix well.
Spritz the soap in the clamshell and pour in the soap, stop about a 1/4 inch from the top. Allow soap to completely harden.
Add 4 scoops of evergreen mica to the leftover soap and stir. Spritz the soap with alcohol and pour the remaining soap into each mold. Let harden.
Close clamshells when cool and label accordingly.
Ingredient Label:
Sorbitol, Propylene Glycol, Sodium Laureth Sulfate, Stearic Acid, Water, Sodium Hydroxide, Myristic Acid, Sodium Cocoyl Isethionate, Glycerin, Fragrance, Mica, Titanium Dioxide, Tin Dioxide, Iron Oxide, Chromium Oxide Green.