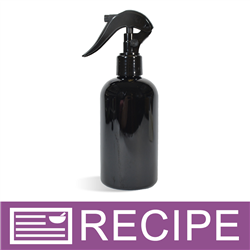 (Enlarge Image)
NOTE: If you are making these products for sale, good manufacturing practices recommend you wear a hairnet, gloves and a mask. We also recommend a clean apron and workspace.
Empty both bottles of Body Splash into a large measuring cup or mixing bowl.
Heat in microwave for 30 seconds.
In mix & pour cup, measure and mix 96 ml of modifier with 24 ml of fragrance oil. Stir completely. Let sit for 2 minutes.
Add to Body Splash and mix.
Divide into 4 bottles.
Trim dip tube to fit length of bottle and place sprayer onto bottle.
Label product accordingly.
To Use: Point nozzle upward and spray mist into the air.
Ingredient Label:
Water, Nonoxynol 12, Fragrance, Polysorbate 80, Glycerin, Propylene Glycol, Methylchloroisothiazolinone, Methylisothiazolinone.