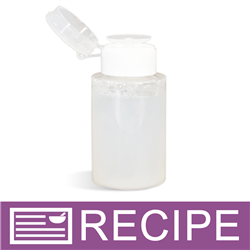 (Enlarge Image)
NOTE: If you are making these products for sale, good manufacturing practices recommend you wear a hairnet, gloves and a mask. We also recommend a clean apron, workspace and sanitized equipment.
Add all ingredients to a container with a pour spout. Be sure to shake each preservative before adding.
Mix well.
Fill each bottle to 5.5 oz. each.
Apply applicator top.
Label product accordingly.
To Use: Use a cotton pad or cotton ball and pump a few times to soak with water. Wipe all over face to clean and remove makeup. No need to rinse.
Ingredient Label:
Water, Geranium Water, Propylene Glycol, Glycerin, Lactobacillus, Cocos Nucifera (Coconut) Fruit Extract, Lactobacillus Ferment, Cocamidopropyl Betaine.