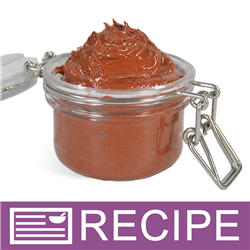 (Enlarge Image)
NOTE: If you are making these products for sale, good manufacturing practices recommend you wear a hairnet, gloves and a mask. We also recommend a clean apron and workspace.
To metal pot, add sweet almond oil and lotion bar additive.
Place on stove top on low heat until wax has melted.
Remove from heat and let cool at room temperature for 45 minutes.
Add menthol crystals and mix in.
Stir in rose kaolin clay, apricot seed powder and vitamin e and let cool completely.
Stir and fill jars with approximately 3.80 oz. by weight.
Label product accordingly.
To Use:
Rub mask all over top and bottom of feet. Relax for 10-15 minutes. Gently rub mask into skin to exfoliate, then rinse with soap and water. Pat dry and feel your smooth feet.
Ingredient Label:
Sweet Almond Oil, Kaolin Clay, Polyglycerol-3 Beeswax, Apricot Seed Powder, Menthol Crystals, Vitamin E.