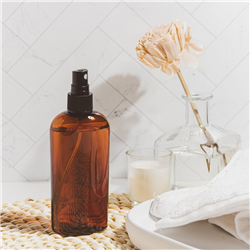 (Enlarge Image)
NOTE: If you are making these products for sale, good manufacturing practices recommend you wear a hairnet, gloves and a mask. We also recommend a clean apron and workspace.
The Apple Cider Vinegar is not included with this kit, it can be purchased at any grocery store.
Weigh all the ingredients into a funnel pitcher.
Mix well with spoon.
Fill bottles to 4.50 ounces each.
Trim dip tubes and insert sprayer into bottles.
Label product accordingly.
To Use: Apply a small amount of toner to a cotton ball or pad and gently blot over the face to help remove oil and give skin a fresh, hydrated look and feel.
Ingredient Label:
Water, Glycerin, Aloe Barbadensis Leaf Juice, Citric Acid, PEG-50 Shea Butter, Apple Cider Vinegar, Carrot Seed Extract, Bamboo Extract, Honeyquat, Propylene Glycol, Diazolidinyl Urea, Iodopropynyl Butylcarbamate.