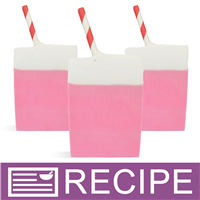 (Enlarge Image)
NOTE: If you are making these products for sale, good manufacturing practices recommend you wear a hairnet, gloves and a mask. We also recommend a clean apron.
Melt 32 oz. of soap in microwave until melted.
Mix fragrance and vanilla color stabilizer in beaker and allow mixture to sit for two minutes. Add color and mix well.
Add fragrance/color to melted soap and mix well to incorporate.
Pour into mold and allow soap to harden.
Melt 12 oz. soap and whip with hand mixer. When soap is 120ºF or cooler, spray the soap in the mold with rubbing alcohol and pour the whipped soap. Allow the soap to partially harden.
Cut straws in half. Use a ruler and place the first straw ½" inch from the edge of the mold into the melted soap and space the next straws each 1" apart. Allow soap to fully harden.
Remove soap from mold and slice into bars.
Wrap soap in plastic wrap.
Label accordingly.
To Use: Remove straw before use. Lather onto wet skin and rinse off.
* Wholesale Supplies Plus is not affiliated or associated with Yankee Candle.
Ingredient Label:
Sorbitol, Coconut Oil, Propylene Glycol, Stearic Acid, Water, Sodium Hydroxide, Glycerin, Titanium Dioxide, Fragrance, Mica, Iron Oxide.