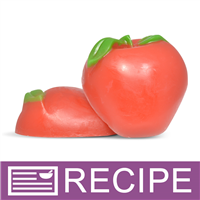 (Enlarge Image)
NOTE: If you are making these products for sale, good manufacturing practices recommend you wear a hairnet, gloves and a mask. We also recommend a clean apron and workspace.
To a microwave-safe measuring cup, add 15 oz. of Extra Clear MP Soap cut up into chunks. Place in microwave and heat until soap has melted.
To a plastic beaker, add 1 oz. of clear soap and heat briefly until melted. Add a few drops of green liquid pigment until desired shade is reached.
Using a plastic dropper, pipe green soap into the leaves on the apples. The mold will have to be tilted to fill in the entire leaf. More colored soap can be added once the first layer has hardened.
To keep the dropper free flowing, place into a cup of warm water when not in use so the soap does not harden inside the dropper.
Once leaves are filled in, heat remaining 15 oz. of clear soap until melted.
Add 10.5 ml of Country Apple Fragrance Oil and blend in.
Add enough red liquid pigment until desired shade is reached.
When red soap has cooled to 125º F, spritz green leaf with a fine mist of rubbing alcohol. Carefully pour red soap into mold.
Spritz top of soap with rubbing alcohol and allow soap to harden. For ease in unmolding, once soap has hardened, place mold in freezer for 30 minutes.
Wrap in plastic wrap or other airtight packaging.
Label product accordingly.
To Use: Lather onto wet skin. Rinse off with warm water.
Ingredient Label:
Sorbitol, Propylene Glycol, Sodium Laureth Sulfate, Stearic Acid, Myristic Acid, Water, Sodium Hydroxide, Sodium Cocoyl Isethionate, Glycerin, Iron Oxides, Chromium Oxide, Fragrance.