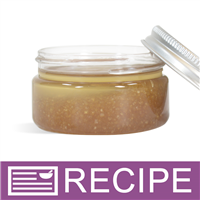 (Enlarge Image)
NOTE: If you are making these products for sale, good manufacturing practices recommend you wear a hairnet, gloves and a mask. We also recommend a clean apron and workspace.
Place Coconut Oil in large glass bowl and heat in microwave until melted.
To the melted Coconut Oil add Jojoba Oil.
Add the Brown Sugar and mix in.
Add the Essential Oils and Optiphen Plus. Blend until all the ingredients are well mixed.
Fill each jar to 2 oz. by weight. Place lid on jar.
Label accordingly.
To Use: Stir before using. Gently massage scrub onto feet and rinse with water and pat dry. Feet will be slightly oily so care should be taken if in the tub.
Ingredient Label:
Brown Sugar, Coconut Oil, Jojoba Oil, Lime Essential Oil, Peppermint Essential Oil, Optiphen Plus.