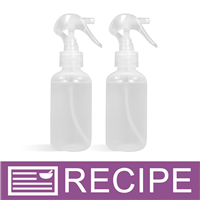 (Enlarge Image)
NOTE: If you are making these products for sale, good manufacturing practices recommend you wear a hairnet, gloves and a mask. We also recommend a clean apron and workspace.
In a large glass measuring cup add 16 oz. Distilled Water and 16 oz. Vanilla Water Hydrosol.
To a plastic beaker add 2 oz. of FO/EO Modifier. Using plastic droppers add 10 ml Lavender Essential Oil and 5 ml Peppermint Essential Oils to the same beaker. Stir mixture and allow to sit for at least 2 minutes and then add to the water/hydrosol mixture.
Using another plastic dropper add 10 ml Optiphen Plus to the water/hydrosol mixture and stir in.
The product will most likely become cloudy when you add the oils. Cover with plastic wrap and allow to sit. As the mixture sits it should begin to clear, this can take anywhere from a couple of hours to a few days. If it is still cloudy after a few hours, you can also try heating in the microwave for 1-2 minutes but be sure the temperature does not exceed 176°F or the preservative will be affected.
When mixture is clear you may begin filling your bottles. Fill each bottle to 4.2 oz. by weight Let cool completely before placing trigger sprayers on bottle. The dip tubes will need to be trimmed to fit the bottles.
Label accordingly.
To Use: Spray on pillows right before bed, or use to freshen up towels and guest linens.
Ingredient Label:
Vanilla Bean Water, Water, Lavender Essential Oil, Peppermint Essential Oil, Phenoxyethanol, Caprylyl Glycol, Sorbic Acid.