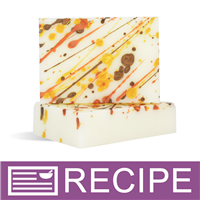 (Enlarge Image)
NOTE: If you are making these products for sale, good manufacturing practices recommend you wear a hairnet, gloves and a mask. We also recommend a clean apron and workspace.
Place mold in freezer for 20 min.
To 3 plastic beakers, add 0.65 oz. of cut up clear soap to each. Heat in microwave until melted.
Add one powder color to each beaker and stir well.
When the soaps have cooled to 130º F, remove mold from the freezer.
Using a spoon, drizzle the soap in different diagonal patterns on the mold, one color at a time. Repeat with each color until you are satisfied with the design. Carefully place mold back in freezer.
To microwave-safe measuring cup, add 60 oz. cut up goat milk soap. Heat in microwave until melted.
In clean beaker, mix fragrance oil and stabilizer and let sit for 2 minutes. Add mixture to melted soap and stir well.
When soap has cooled to 125°-130°F, remove soap from freezer and spritz soap in mold with alcohol.
Pour the melted soap into the mold moving the measuring cup into different areas of the mold to help prevent melting the colored soap. When soap has been poured to top, spritz again.
Allow soap to harden completely.
Remove soap from mold and cut along score lines. Wrap in plastic wrap.
Label accordingly.
To Use: Lather onto wet skin. Rinse off with warm water.
Ingredient Label:
Sorbitol, Propylene Glycol, Sodium Laureth Sulfate, Stearic Acid, Water, Sodium Hydroxide, Myristic Acid, Lauric Acid, Sodium Cocoyl Isethionate, Goat Milk, Yellow 5, Titanium Dioxide, Fragrance, Mica, Tin Dioxide, Iron Oxides, Fluorphlogopite.