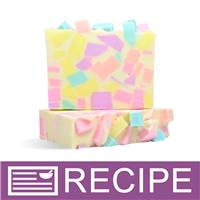 (Enlarge Image)
NOTE: If you are making these products for sale, good manufacturing practices recommend you wear a hairnet, gloves and a mask. We also recommend a clean apron and work space.
To microwave-safe measuring cup, add 6.5 oz. of cut up white soap. Cut one soap color bar in half. Cut the half piece into smaller pieces and add to measuring cup with soap. Place in microwave and heat until soap has completely melted.
Place silicone mold on a cookie sheet. This will give mold stability if it needs to be moved.
Pour colored soap into the bottom of the loaf mold. Spritz top of soap with rubbing alcohol to remove any surface bubbles. Set soap aside to harden. HINT: To speed up this process, place mold in freezer for about 30 minutes.
Once soap has hardened, remove from mold and set aside.
Repeat above steps with each color cube until all 5 colors have been made.
Using a soap cutter, cut each colored soap into small chunks of various sizes. Set aside.
In plastic beaker, add 1 oz. Candy Crush fragrance oil with 0.5 oz. of Vanilla Color Stabilizer. Mix well and set aside.
To microwave-safe measuring cup, add 30 oz. of cut up white soap base. Heat in microwave until melted.
Add the fragrance oil mixture blended in Step 12. Stir to incorporate fragrance oil.
Take a handful of the colored "candy pieces" and spritz generously with alcohol. Toss these chunks into the bottom of the loaf mold.
With digital thermometer, check the temperature of the soap. It must be at or below 125°F so it does not melt the soap chunks.
Pour white soap over soap chunks in the mold. Spritz the top of soap, then spritz more colored soap chunks and add to the loaf.
Continue adding chunks and pouring white soap over them until you fill the entire mold. Try to leave some embeds sticking out the top of the loaf. Let soap harden.
Remove from mold and slice into 1" slices.
Wrap slices with clear plastic wrap and label soap accordingly.
To Use: Lather onto wet skin and rinse with warm water.
Ingredient Label:
Sorbitol, Propylene Glycol, Sodium Laureth Sulfate, Stearic Acid, Myristic Acid, Water, Sodium Hydroxide, Sodium Cocoyl Isethionate, Sodium Cocoate, Titanium Dioxide, Blue 1, Yellow 10, Polyester-3, Red 28, Violet 2 EXT, Iron Oxides, Fragrance.