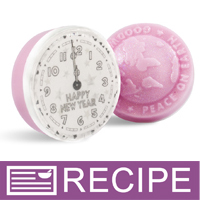 (Enlarge Image)
NOTE: If you are making these products for sale, good manufacturing practices recommend you wear a hairnet, gloves and a mask. We also recommend a clean apron.
Using a laser or inkjet printer, print one sheet of embed paper using this link: https://www.wholesalesuppliesplus.com/PDFs/Labels/New-Years-Eve-Labels.pdf.
Cut out clocks and set aside.
To a microwave-safe measuring cup, add 8 oz. of cut up Crystal Clear MP Soap. Add 2 oz. of the cut up Ultra White MP Soap to same cup. Heat in microwave until melted.
To melted soap add 8.5 ml Pink Champagne fragrance oil and stir well.
Add 1/4 tsp. of Fairytale Pink Mica Powder and 1/8 tsp. of Iridescent Sparkle Glitter and mix in well. Add more pink sparkle if a darker shade is desired.
Let soap cool slightly and thicken to help suspend the mica/glitter. Stir to incorporate the colors and then pour into 3 mold cavities, starting with the single one on the bottom so the mold does not tip. Pour to about 1/2 inch from top of cavity.
Spritz top of soap with rubbing alcohol to release any surface bubbles. Let soap harden.
To microwave-safe measuring cup, add 3.5 oz. of cut up Ultra White Soap Base. Place in microwave and heat until melted.
Add 3 ml of Pink Champagne Fragrance Oil and gently stir.
Once soap temperature has cooled to 125°-130°F, spritz tops of soap in mold with rubbing alcohol. Pour a thin layer of white in each soap cavity. Spritz again and let harden.
Weigh and cut up 3.5 oz. of Crystal Clear soap. Heat in microwave until it has completely melted.
Spritz the top of the white soap with alcohol. Pour about 1/4 inch layer of clear soap over the white and immediately place a clock embed into the soap facing up. Gently push the embed down into the soap so it is completely covered. Spritz. Pour a little more clear if soap is not smooth.
Sprinkle a small amount of white glitter over the top and spritz again with alcohol. Let soap set up.
Remove from mold and package as desired.
Repeat above steps to make the remaining 3 soaps.
Label product accordingly.
To Use: Lather onto wet skin and rinse with warm water.
Ingredient Label:
Sorbitol, Propylene Glycol, Sodium Laureth Sulfate, Stearic Acid, Water, Sodium Hydroxide, Myristic Acid, Sodium Cocoyl Isethionate, Glycerin, Titanium Dioxide, Mica, Iron Oxide, Silica.