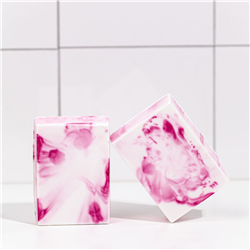 (Enlarge Image)
NOTE: If you are making these products for sale, good manufacturing practices recommend you wear a hairnet, gloves and a mask. We also recommend a clean apron and workspace.
In a plastic beaker, mix 1 oz. of Cherry Blossom Fragrance Oil with 0.5 oz. of Vanilla Color Stabilizer for MP Soap. Set aside for at least 2 minutes.
To a microwave-safe measuring cup, add 26 oz. of cut up White Soap Base. Heat in the microwave in 30 second intervals until it has completely melted.
Mix in the fragrance/stabilizer mixture to melted soap.
Place the silicone mold on a cookie sheet for stability.
Using the Santa Red Liquid Color, randomly place drops of color directly into the bottom of each soap cavity. Add 2-3 drops or as many as 6-7.
Let soap cool to about 130°F, then pour soap directly into each soap cavity.
Using the straight end of a spoon or a popsicle stick, slightly swirl soap and color. Be sure to touch the bottom of the mold to move the color around but not too much so that the soap and color are not overmixed.
Spritz the top with alcohol and let soap completely hardened.
Remove from mold. Wrap soap in plastic wrap then place in a white soap box.
Label product accordingly.
To Use: Lather onto wet skin and rinse with warm water.
Ingredient Label:
Sorbitol, Propylene Glycol, Sodium Laureth Sulfate, Stearic Acid, Myristic Acid, Water, Sodium Hydroxide, Sodium Cocoyl Isethionate, Titanium Dioxide, Fragrance, Red 33, Red 40.