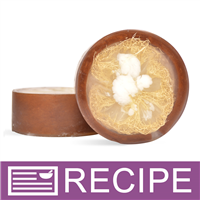 (Enlarge Image)
NOTE: If you are making these products for sale, good manufacturing practices recommend you wear a hairnet, gloves and a mask. We also recommend a clean apron and workspace.
Cover a jelly roll pan with plastic wrap and set aside.
To a microwave-safe measuring cup, add 20 oz. of cut up Basic Clear Soap Base. Heat in microwave in 30 second intervals until the soap is completely melted.
Add 0.50 oz.Hawaiian Coconut Fragrance Oil and 1/2 teaspoon of Chocolate Brown Mica Powder and mix well.
Pour brown soap into the lined jelly roll pan and spritz the top with rubbing alcohol to pop any surface bubbles. Set aside to cool.
Once cooled, remove soap from jelly roll pan and peel away the plastic wrap. Cut into 12 strips measuring 1.25" W by 8.75" L. While the soap is still pliable, curl strips smooth side out and place into the 6 cavities of the Round Silicone Mold to hold their shape. Place mold in freezer for 10 minutes to set up then repeat with the remaining 6 strips. If the strips are not molded early, they will crack if molded later on in recipe.
Weigh 1 oz. of white soap. Grate into shreds. Place white shreds into the open spaces of all 12 luffa slices.
Place the Round Silicone Mold on a jelly roll pan for stability. Place one luffa slice with white soap into each cavity and set aside.
To a microwave-safe measuring cup, add 28 oz. of cut up Basic Clear Soap. Heat in microwave in 30 second intervals until the soap is completely melted.
Add 0.75 oz. Hawaiian Coconut Fragrance Oil and stir well.
Once the melted soap cools to a temperature of 160°F, you are ready to begin. If necessary, heat briefly in microwave to bring up temperature. Your melted soap needs to be between 150°-160°F in order to gently melt the white soap shreds to create the coconut bloom in the finished soap.
Working with one soap cavity at a time spritz the luffa, white soap shreds and one molded brown strip with alcohol.
Pour melted clear soap into the first cavity over the luffa and white shreds filling only 3/4 of the way. Gently fit molded brown strip into cavity around the luffa slice. (*Note: We found that a plastic knife helped to move the luffa into place.) Spritz top with alcohol.
Repeat with remaining 5 cavities. If the soap cools, simply microwave for 30 seconds to bring the temperature back up to 150°-160°F. Let soap completely harden after all 6 soaps have been poured.
Carefully remove soaps from mold. Wrap tightly with clear plastic wrap and label accordingly.
Repeat steps 7-14 with remaining supplies to complete all 12 bars of soap.
To Use: Lather onto wet skin, rinse off with warm water.
Ingredient Label:
Sorbitol, Propylene Glycol, Sodium Laureth Sulfate, Stearic Acid, Lauric Acid, Water, Sodium Hydroxide, Glycerin, Titanium Dioxide, Luffa, Fragrance, Mica, Iron Oxides.