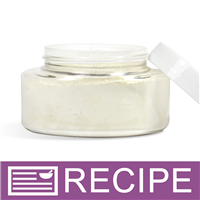 (Enlarge Image)
NOTE: If you are making these products for sale, good manufacturing practices recommend you wear a hairnet, gloves and a mask. We also recommend a clean apron and workspace.
To large glass mixing bowl, add Kaolin Clay.
Add Aloe Vera Powder and gently mix with wire whisk.
Using 1/2 oz. plastic scoop, add 3 scoops, or 3 tablespoons, of Sea Clay. Mix gently with whisk.
Using plastic dropper, add 3 ml of fragrance oil. Drizzle over powder, then gently blend in with whisk.
Continue adding 3 ml at a time, drizzling over powder, until 18 mls have been added. Be sure to whisk between each dropper full.
Dry mask can now be packaged into jars. Each jar should hold 1.20 oz. by weight.
Package one white scoop with each jar into packaging of choice.
Label product accordingly.
TO USE: Place 1-2 scoops of dry mask into small bowl. Add just enough water to make a paste. Spread mask on face avoiding eye area. Sit back and relax until mask dries and hardens. Wash off with warm water. Follow with face lotion, if desired.
Ingredient Label:
Kaolin, Aloe Vera Powder, Sea Clay, Fragrance.