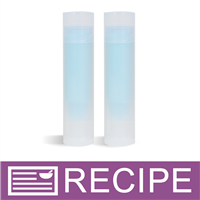 (Enlarge Image)
NOTE: If you are making these products for sale, good manufacturing practices recommend you wear a hairnet, gloves and a mask. We also recommend a clean apron and workspace.
Measure out all of the ingredients.
To microwave-safe measuring cup add wax, castor oil and aloe vera oil. Place in microwave and heat until wax is 3/4 melted. Remove from heat. If you prefer, wax can be heated in a double boiler until almost melted.
Add the Aloe Butter Blend and return to microwave or double boiler. Melt butter and wax completely.
Add Vitamin E, NuTone Navy powder color and Carnival Cotton Candy Flavor Oil. Stir to blend in. If the mixture thickens, return to heat until liquid again.
Using a plastic dropper or beaker, fill lip tubes with liquid.
Let product cool completely.
If any tubes have sink holes, heat any leftover lip base to top them off. Or, use a heat gun and carefully warm the top of the lip balm until it becomes liquid. This will fill in the sink hole when it rehardens.
When lip tubes have completely set up, cap and label product accordingly
To Use: Apply to lips as needed.
Ingredient Label:
Beeswax, Aloe Butter, Castor Oil, Aloe Vera Oil, Flavor, Vitamin E, Fluorphlogopite, Titanium Dioxide, Tin Dioxide, Manganese Violet.