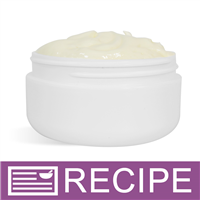 (Enlarge Image)
NOTE: If you are making these products for sale, good manufacturing practices recommend you wear a hairnet, gloves and a mask. We also recommend a clean apron and workspace.
To large microwave-safe measuring cup, add the camelina oil and emulsifying wax and heat in microwave until the wax has completely melted (about 60 seconds). Remove and stir to dissolve any small wax pieces.
Fill the empty measuring cup with 25 oz. of distilled water. Heat this water in microwave for 3 minutes.
Stir in bamboo extract and silk amino acids.
Carefully pour the water into the warmed oil and wax. Gently stir.
Using a stick blender or a hand mixer, mix until lotion starts to thicken.
Add vitamin E, fragrance and preservative.
Continue to mix. Lotion may have thinned due to the preservative but it will thicken back up as the lotion thickens and cools.
Fill jars to 1.75 oz. by weight. Let product cool completely and then apply lids.
Label product accordingly.
To Use:
Gently rub a small amount of lotion on your face and neck. This is light enough to wear under makeup, if desired.
Ingredient Label:
Water, Camelina Oil, Emulsifying Wax, Glycerin, Bamboo Extract, Silk Amino Acid, Vitamin E, Fragrance, Phenoxyethanol, Caprylyl Glycol, Sorbic Acid.