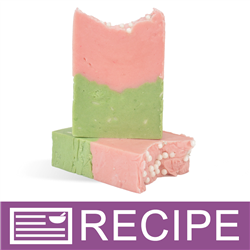 (Enlarge Image)
NOTE: If you are making these products for sale, good manufacturing practices recommend you wear a hairnet, gloves and a mask. We also recommend a clean apron and workspace.
Grate each 1 lb. of rebatch soap using a salad shooter or a cheese grater and place in two separate bowls
Using two double boilers, crock pots or combination of both, heat soap shreds until completely melted. Soap will stick to the sides so pot should be scraped and stirred often. Shreds will take a while to melt and will have a creamy texture once melted.
In separate beakers, add 0.50 oz. fragrance to each. Add one powdered color to each and mix well.
Once melted, add one color/fragrance mixture to each batch of melted soap and stir well until blended in. The soap hardens quickly so we recommend keeping the pot on low heat while mixing in the fragrance/color. You may see white chunks in the batter so continue to heat on low until color is blended in.
Quickly spoon or pour one color into loaf mold. Tap on counter to remove any air bubbles. Repeat with second color. It is not necessary to spritz alcohol between the layers. Sprinkle the top with White Sugar Pearls and press these into the soap. Let soap harden overnight.
Remove from mold and cut loaf into slices. Soap can be used right away. There is no cure time required.
Wrap soap as desired and label product accordingly.
To Use: Lather onto wet skin and rinse with warm water.
Ingredient Label:
Sodium Palmate, Aqua, Sodium Palm Kernelate, Glycerin, Sorbitol, Coconut Acid, Sodium Chloride, Tetrasodium Glutamate Diacetate, Fragrance, Fluorphlogopite, Iron Oxide, Chromium Oxide, Sugar, Corn Starch, Dextrin, Carnauba Wax, Confectioner's Glaze, Gum Arabic.