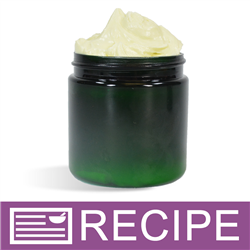 (Enlarge Image)
NOTE: If you are making these products for sale, good manufacturing practices recommend you wear a hairnet, gloves and a mask. We also recommend a clean apron and workspace.
To microwave-safe measuring cup, add Hemp Seed Oil, Emulsifying Wax and Stearic Acid.
Heat in microwave until stearic acid and wax are completely melted.
Add Hemp Butter Blend and gently stir to allow butter to soften.
To second microwave-safe measuring cup, add 50 oz. of water. Heat bowl in microwave for 2 minutes.
Slowly pour warm oil/butter mixture into the warm water. Product will immediately turn a whitish color.
Using a stick blender, begin to blend. Continue blending until mixture starts to thicken.
Add Silk Amino Acids and Vitamin E. Continue blending.
Check temperature to be sure lotion is under 176°F. Add preservative and blend until all ingredients are well incorporated.
Fill each jar to 9 oz. by weight. Any remaining product can be divided equally between all seven jars. Let product cool completely before applying lids.
Because the hemp butter blend and oil have a naturally strong odor, no fragrance was added. If you want to add a fragrance that will complement the hemp, it can be added at 1-2% or 19-28 ml.
Label product accordingly.
To Use: Apply to skin as often as desired.
Ingredient Label:
Water, Hemp Seed Butter, Hemp Seed Oil, Emulsifying Wax, Silk Amino Acid, Stearic Acid, Phenoxyethanol, Caprylyl Glycol, Sorbic Acid, Vitamin E.